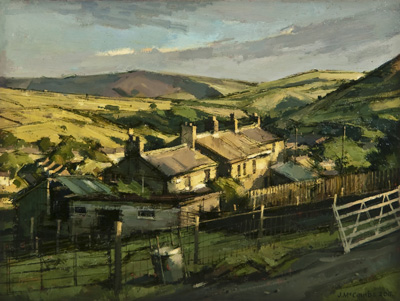 The artist John McCombs started drawing and painting as young boy. It was his father who first noticed his early interest and unusual ability for someone so young. So he encouraged his son all he could by first of all buying him a box of Lakeland coloured pencils and sketch pad with the quality of paper which young John had never drawn or painted on before. Then his father started buying good quality prints of paintings by the artist John Constable and hung them around the walls of their two-up-two-down terraced house in Harpurhey, Manchester. These were meant to encourage the young artist who knew that the originals of these pictures were in oil. John began pestering his dad for some oil paints to which he retorted "You'll master those crayons first!" Eventually he did bring home a fine box of watercolour paints for his son, not like the ones with the Mickey Mouse lid which John had been using before. But young John still begged for oil paints. Eventually his father relented and began to bring home an assortment of oil colours and John can remember the smell of the oil when removing the caps off the paint tubes. He thought this would have been the smell that Constable experienced when he was painting. At last John was using the medium of the masters.
Every year there would be the Annual Exhibition of the Manchester Academy of Fine Arts at Manchester City Art Gallery and John would be taken by his dad to see the show usually on a Sunday afternoon when there was nothing else one could do. At the age of nine, while looking around that year's exhibition, John asked his father, "Hey dad, do you think I'll ever get a painting in this exhibition?" He remembers that his father looked down at him and said "One day you'll be the President!" A statement that was to stay with John for all of the following years.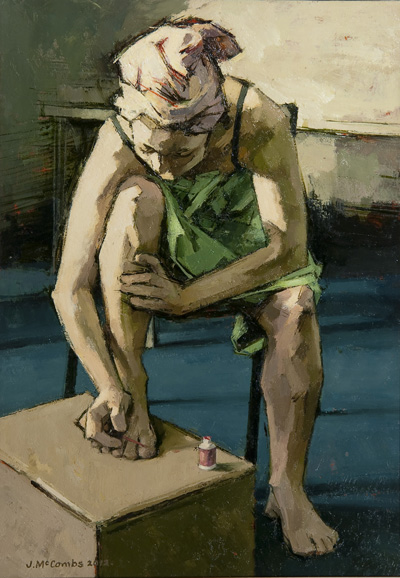 When John was about eleven years of age his art teacher at his junior school also began to recognise his ability and really took over the task of tutoring John on a more serious and experienced level. John always says that he owes his career in art to his teacher Jim Callaghan who went on to become the Labour M.P. for Middleton and Heywood constituency. But it was Jim who got John to the High School of Art in Manchester at the age of thirteen, and they still keep in touch with each other. So John was now on the art education treadmill. He stayed at the art school up to the age of eighteen and then went on to St Martins School of Art in London which at that time, in the 1960's was the art college to go to. John was there for five years and had great success being told that he'd achieved the highest marks in his final degree since the war. As a result John was offered a teaching post at St Martins but during his time there, but while back in Manchester on holiday, a chance bus ride determined his return North at the end of his college career.
John and a friend decided to have a day out walking. So they went into Manchester city centre to catch a bus out, but couldn't decide where to go. John suggested that they got on any bus going anywhere, so they caught the next one which came along and didn't look at its destination. They booked to its terminus and an hour or so later it dropped them off at Uppermill, Saddleworth.
John was immediately impressed by the landscape. It was winter. They started to walk and after some time came to a set of crossroads. John looked at the signpost which read Huddersfield 14 miles, Oldham 4 miles and Delph ¼ mile. So intrigued by the name they decided to investigate. On arriving at the village centre John was impressed by this ancient stone-built village under glorious morning sunshine and surrounded by snow covered hills that he turned to his friend and said, "When I've finished at college this is where I'm going to come to live and paint." So with regard to the offer of a job at St Martins College it was thanks but no thanks, and on leaving, John came to live in Saddleworth.
Now he had to try to establish himself as a professional artist. He became elected as Member of three Royal Art Societies based in London but in 1975 he was elected as a Member of the Manchester Academy of Fine Arts. His enthusiasm and ambition very soon saw him elected onto the Council of the Academy and also onto the Exhibition Selection and Hanging Committees. John loved the hands-on approach to exhibiting - with his exhibiting habits John began to steadily build a national reputation winning several prestigious art prizes.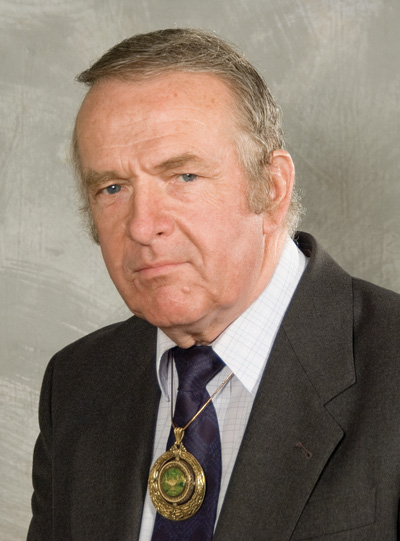 Years passed; a number of Academy Presidents came and went and John was approached to take on the job more than once but still as a young artist with a reputation to build and a living to earn John had to decline. But it was to remain on the cards and at the Academy's 2009 A.G.M. John did at last take over the Presidency. Knowing a few years back that this was likely to happen and that being President could involve a lot of time consuming work John suggested in Council that the organisation of the Academy could be broken down into sub-committees. So by the time John took over, the Academy had a website committee; a publicity committee; an education committee and a premises committee, each with its own Chairman whose job it was to report to the Council.
John says the one disappointment since the Manchester City Art Gallery had its 35 million pound facelift is that the Academy can no longer exhibit in what used to be its permanent home. He hopes that in time Gallery policies, attitudes and even personnel might change and the Academy may have a chance to show in the Manchester Art Gallery again even if not on a regular basis. In the meantime the Academy moves its exhibiting around the public galleries in the North West. John says he quite likes this and it is interesting working with different Directors and Curators.
John's aims as President of the Academy are to maintain a stable programme of two major exhibitions per year; to increase public awareness of the Society and raise standards at all levels. John says he's young enough but mature and wise enough to run the Academy. He'll be proud to wear the President's medal at exhibitions and other occasions. He's pleased that as the 23rd Academy President he's the first Oldham based artist to hold the office and on a very personal note he's pleased to be fulfilling his father's ambitions and hopes for him when he was a child artist at the age of nine.